Never Going Underground – The Stop the Clause march, thirty years on
When Comma Press asked me to contribute to their Protest: Stories of Resistance anthology, I knew what I wanted to cover. As a teenager, I had two obsessions that put me out of step with my mid-1990s contemporaries, but endured: Manchester's 1980s counter-culture, from Joy Division to the 'Summer of Love', via New Order, The Smiths and The Fall; and the queer culture of the same era. Not just the films of Derek Jarman or Isaac Julien, but also the communities who supported themselves through the AIDS crisis in the face of vocal opposition (not least from Manchester's evangelical chief constable, James Anderton, branded 'God's Cop' by the Happy Mondays and 'Mr Terror, Chief of Police' by The Passage, and referenced in 'Hit the North' by The Fall); supported the miners during the strike (including a gig at the Haçienda), and fought against Clause 28– one of the most spiteful pieces of law in British history.
I'd touched on these – and my time in Manchester as a student – in my memoir, Trans (Verso, 2015) – but wanted to explore them further. My History degree began in 2000, just after a rally in Albert Square to support Tony Blair's efforts to repeal Section 28, and ended in 2003, just before Labour finally succeeded, despite significant opposition from right-wing politicians and businessmen (including Stagecoach owner Brian Souter, whose buses I boycotted). It was only then that I realised quite how much Section 28 had shaped my childhood, explaining why I'd found it so difficult to find any information, or even have any conversations, about what it meant to be lesbian, gay, bisexual or transgender.
If you don't remember, Clause (later Section) 28 was an addition to the Local Government Act 1988, which stated that a local authority 'shall not intentionally promote homosexuality or publish material with the intention of promoting homosexuality'. In practice, this meant that it became impossible to find any positive depictions of LGBT people in libraries or have any in-depth discussion about LGBT people in schools. Nobody was ever prosecuted under the Act, but that was beside the point: it was silencing legislation, and it worked.
The biggest protest against Clause 28 took place in Albert Square, Manchester on 20 February 1988, under the slogan Never Going Underground – which I borrowed for the title of my story. I didn't want to just write about the event, important as it was. I was more interested in how it was organised, who was included in its committee, and its final line-up of performances and speeches, and who was excluded, consciously or otherwise. Interviewing people who'd worked on the event, I learned about two crucial decisions.
The first concerned a motion to support Viraj Mendis, a Sri Lankan asylum seeker in Hulme, whom the government planned to deport. This was rejected: the plan to 'build more solidarity' (as the Socialist Workers' Party put it) might just 'confuse things', according to one of the story's main characters, Johnny. The second was a vote on whether Andy Bell (of Erasure) and Jimmy Somerville (Bronski Beat/The Communards) should perform in drag at the festival after the protest. This too was voted down: some of the gay community worry about 'confus[ing] the issues around sexuality', and some of the lesbians describe drag as 'demeaning to women'. My protagonist, Marina, feels isolated after this implied exclusion of gender variance, and ultimately attends the protest with one of the few trans people she meets through the organising meetings, rather than Johnny – signalling the end of their brief romance.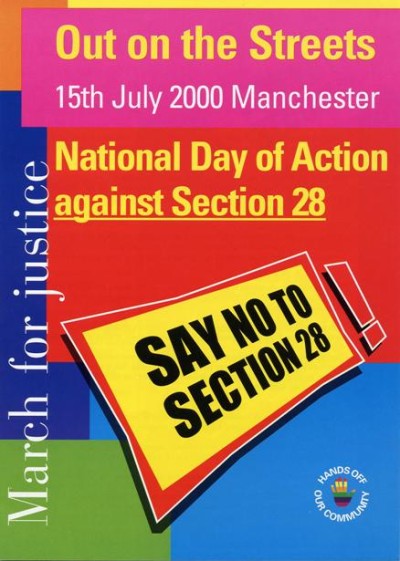 Post-transition, Marina returns to Manchester for the July 2000 protest, triggering the memories of the 1988 event. This frame allowed me to include more of my own recollections of the city: the use of the 1980s counter-culture to gentrify the city (with the Haçienda used in marketing new flats on the site), the influx of straight people to Canal Street that followed Queer as Folk being on Channel 4 the previous year, and the marginal status of trans people in Manchester's Gay and Lesbian culture. It also allowed me to reference New Labour refusing to acknowledge the role of the party's left in LGBT struggles, which their predecessors had been slow to back: several interviewees contrasted Ken Livingstone's vocal support for the protestors with the Labour right's reluctance to challenge the 'promotion' wording or Thatcher's exploitation of homophobia to justify local spending cuts.
It all makes me think of how much more the present climate suits me: the Labour left surviving all attempts to bury them and reshaping the party, striking down efforts to exclude trans people from organising; a more intersectional LGBTQI+ movement with groups such as Lesbians and Gays Support the Migrants, inspired by the bridge-building seen in Matthew Warchus' film Pride (2014); an abundance of information online about sexual diversity and gender variance that no government could realistically hope to suppress. But during LGBT History Month, it's important to remember that things are not yet perfect, and that no progress could have been made without the resolute, resilient people who raised their voices against a law made to silence them. 'Never Going Underground' is my tribute to their spirit, strength and solidarity.
Buy Protest: Stories of Resistance in hardback from our website, or buy Juliet's single story and the accompanying afterword by Em Temple-Malt for just 99p as an eBook single.
Learn more about LGBT History Month here.
---
Juliet Jacques
Juliet Jacques is a writer, journalist and critic based in London. She has published two books: Rayner Heppenstall: A Critical Study (Dalkey Archive, 2007) and Trans: A Memoir (Verso, 2015). Her short fiction, essays and criticism have appeared in Granta, The Guardian, The White Review, Sight & Sound, Frieze, London Review of Books and many other publications and websites.
She was included on The Independent on Sunday Pink List of influential LGBT people in 2012, 2013, 2014 and 2015, and appeared on a panel at the PEN International Congress in 2014. Her Transgender Journey column was long-listed for the Orwell Prize for blogs in 2011, and Trans: A Memoir was runner-up in Polari LGBT Literary Salon's First Book Award for 2016.