To mark the launch of Protest: Stories of Resistance, celebrating the often overlooked history of British protest and grassroots movements,  Margaret Beetham has written this special blog in response to Joanna Quinn's story 'The Stars are in the Sky', which explores life at the women-only camp which fought against the use of nuclear missiles.  A so-called 'Greenham Woman' herself, here she provides unique insight into one of the most enduring and resilient protests the UK has ever seen.
---
'You can't kill the spi-i-rit. She is like a mountain, old and strong, she goes on and on and on. You can't kill the spi-r-it.'  And it did go on and on, the singing at Greenham, circling round and round, among women sitting on the road to block military transports, in the coaches travelling from all over Britain to join them, in cars bringing supplies and more recruits to take the place of those who needed a rest or wanted to get home, like Ann in this story. But as I write,  in 2017, thirty-six years after a small group of women, children and men left Cardiff to walk to the US base at Greenham Common, it feels as if the spirit has faltered. Where is Greenham in our collective memory? Under 'Non-violent Direct Action' Wikipedia lists hundreds of examples through history and across the world but does not mention the women's peace camp at Greenham.
Joanna Quinn's story starts at the moment in November 1983 when it seemed the camp had failed in its purpose, to prevent the arrival of American Cruise missiles carrying nuclear weapons on British soil. All those months in which women had sustained the camp through harsh weather and increasingly harsh action from authorities appeared to be in vain. But it was not the end. Women came and went but the camp went on, and on, and on. All through the 1980s it continued, apparently marginal and fragile, but constantly resisting destruction, destruction both of the camp with its gaggle of home-made 'benders' and of the spirit of Greenham. Like the webs which were one of the women's symbols, like the rainbow after whose colours the different gates were named, the camp kept on. We kept on. Like thousands of other women I was energised by that spirit. I came down with my local 'affinity group', a support group of women from Manchester, to take part in blockades and other actions, to bring supplies, to stay overnight. I had two children and a full-time job. Unlike Ann in this story, I never stayed for long at Greenham but I was still a 'Greenham Woman'. 'We are everywhere', we said. And we were. Thousands of women like me visited, stayed, and took part in new actions; cutting the wire fence, resisting repeated evictions asthe Council's bailiffs destroyed the 'benders', sitting down in the road when the missile carriers came trundling out of the gates. Hundreds appeared before local magistrates for breaking the law; many went to prison.  A few women were still there in 1992 when the Cruise missiles began to be removed and Greenham slowly returned to what it had been, and is now, commonland, open to all.
Not everyone would accept Ann Pettitt 's claim, implicit in the subtitle of her book, Walking to Greenham; How the Peace Camp began and the Cold War Ended (1988, 2006). The official histories dismiss any connection between the peace camp and the nuclear deals made between Russia and the USA in 1986, but in those larger movements of public opinion which made the deals possible who can tell? As Jill Liddington points out in The Long Road to Greenham, however much official sources and the press sought to discredit the camp as 'desolate and filthy' and 'just a bunch of lesbians', the Government did not dare use the full extent of its powers to destroy the camp because public opinion, particularly among women, was consistently opposed to these weapons being on British soil. However much the Greenham Women were vilified, they were a constant reminder of the 'nuclear issue' which the Government wanted to sink out of view. Unlike most protestors, Greenham women did not go away.  The whacky, improvisatory quality of their set-piece actions caught the public imagination whether it involved women dressed as teddy bears, breaking in to picnic on the nuclear silos, or invasion of the base on Hallowe'en dressed as witches.  Around Britain and internationally other peace camps were set up where activists (women and men) worked together. At Menwith Hill in Yorkshire, the camp made public a vast American communications base which was so secret it did not officially exist, as I discovered when I went there one weekend. Like the 'Here be dragons' on ancient maps, there was an empty white space on the Ordinance Survey map which turned out to be filled with huge domes, the 'ears' of  America's secret surveillance.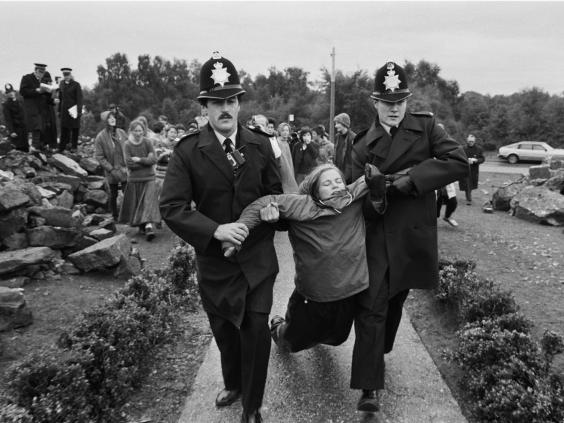 Greenham was about more than non-violent resistance. It was about trying to create new kinds of community. As the story makes clear, there were no set rotas for 'domestic' work like washing up nor were there committees and appointed leaders: no stars. But, though Ann in the story rejoices in her freedom from domestic routine, living like that was always difficult – not only because of the mud and the insecurity and the disapproval of loved ones but because living together is difficult, a difficulty made sharper when you are living outside the fence of roles and rules which structure everyday life. There were angry exchanges and deep disagreements. The most profound was over the decision to make the camp a women-only space, which hurt and enraged some of those, women and men, who had supported the camp in its early days. The wider peace movement, especially the Campaign for Nuclear Disarmament, bitterly opposed this decision and, though Joan Ruddick's work when she became chair of the organisation helped in part to heal the division, the bitterness remained. At a more everyday level, the lack of rotas, which caused Ann such delight, could also lead to resentment at those who never did the washing up or dug the shit pits. The women who stayed sometimes found the visiting women annoying and insensitive. One woman complained to me that some visitors had brought tents and then tried to take photographs of the camp without asking permission. 'And the tents were crap, too.' Making decisions through group discussion was a crucial and enabling strategy but it could also be felt as a different kind of constraint- the tyranny of structurelessness, in a contemporary criticism.
However, it was out of these difficulties and the commitment to work them through together that the resilience of the camp and its creative self-invention was born. This commitment was crucial to the long-term residents but also to the many thousands of others in local affinity groups where women learned to trust each other, to talk through why we-mostly law-abiding citizens – were breaking the law, to prepare not to resist when you were picked up and taken or thrown to one side by a large policeman. 'Greenham women are everywhere,' we said. She goes on and on. And perhaps is being reborn as I write, with thousands of women round the world marching together wearing silly hats and refusing the violence of a politics of hatred and division.
On my desk as I type is a green-wire-and-perspex paper holder made by the oldest member of our affinity group from a bit cut out of the fence around the base. Greenham enabled in her the quirky creativity embodied in this piece; beautiful, awkward and sharp as a piece of cut wire.
Margaret Beetham is a Research Fellow in the School of Arts and Media at the University of Salford, having retired from the English Department of Manchester Metropolitan University. She is currently engaged in various writing projects, including a memoir.
Protest: Stories of Resistance is now available directly from our website, on Amazon and in all good bookshops.